Back, Poems by Chris Bullard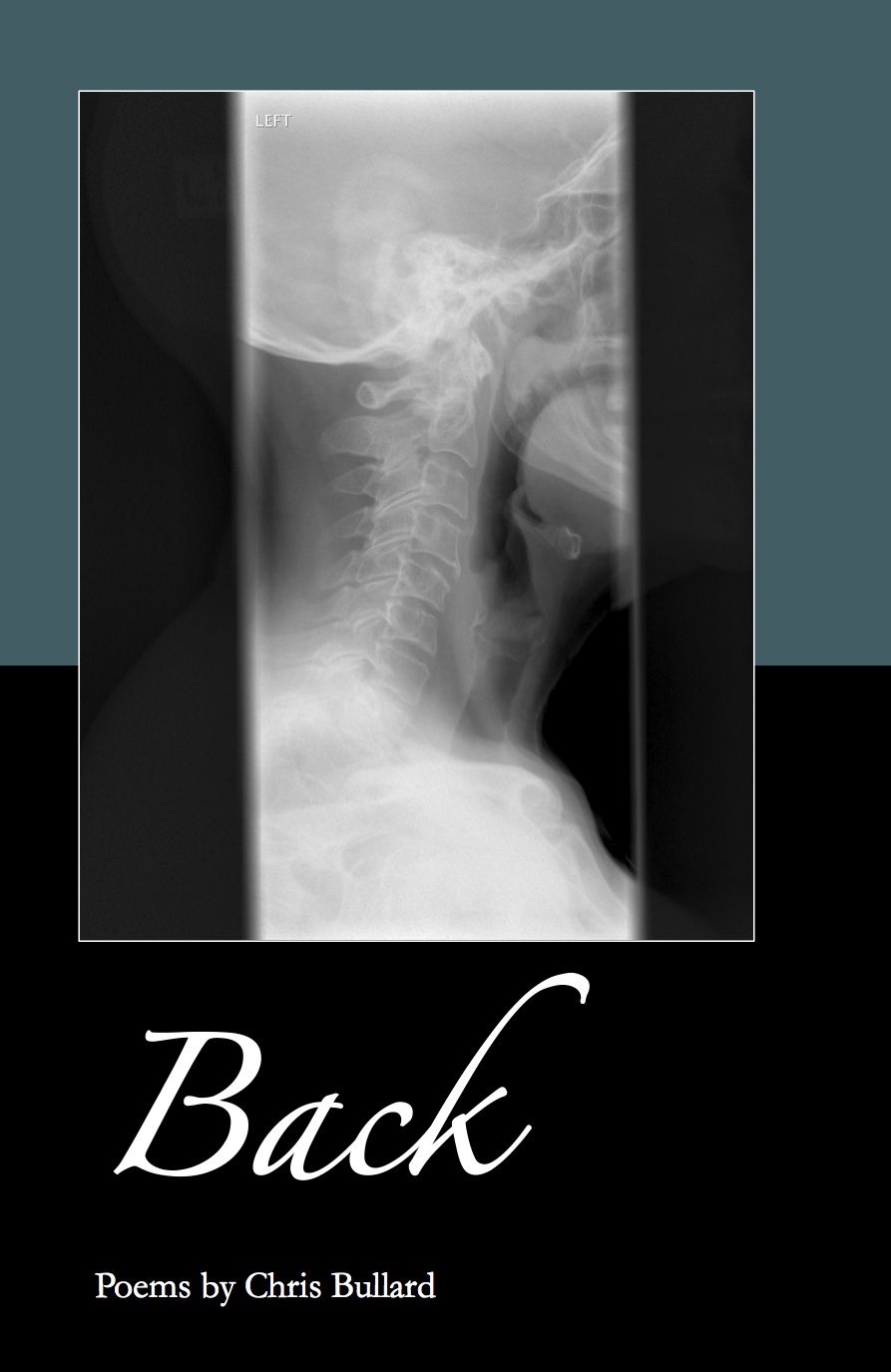 The crisp formalism of Chris Bullard's Back invites the reader into sudden, sharp perception, reached with rapid turns of language.
"In Back, Christopher Bullard casts a wonderfully cold eye on history, intertwining what we read about in textbooks with his own, personal history, from Space-crazed Florida in the 50s to present-day, trash-treed suburbia. Wide-ranging and clear, Bullard's poems contain multitudes of allusions, from Dylan Thomas to Edgar Allan Poe, from Avignon to Ambien. Read this collection for 'Your Own Good,' and you will learn a thing or two about the terrifyingly close relationship between the dangerous and the beautiful, his 'blood upon [her] hand is beautiful: The shade of red the sumac turns in fall.' "—Mora Egan

"Christopher Bullard's long-awaited first full-length collection Back deftly exercises ironic language to take the reader back to the big questions—fate and free will, history and morality, identity and desire—alighting at last upon universal insights spun from personal anecdotes. Poems like the ruthless 'At the Sewanee Writers' Conference, I Go Looking for Allen Tate's Grave' prove that Bullard is not afraid to level a satirical sting ('Better to offer civil criticism / than confront the ravenous grave of the South') or self-effacing gesture ('I'm gray and leaning like these markers'), all the while refusing to flinch from the current state of our culture ('Here, the craft of poetry is all business'). Like all good poets, Bullard struggles 'Against this literal world, by imagining / A language meaning more than words might mean to mean.' Back is a pleasure to read, wise, plaintive, clever, and always touching."—Ernest Hilbert

"Fond of both the conceit and the conclusion, this – Christopher Bullard's first full-length collection – is shrewdly anthropocentric, a poetry of personality. Its thematic scope is classical: elegy, ode, ekphrastic; as is its delivery, through sonnet, tercet, octave and more. The lover of traditional poetic technique will find a friend in Back, accomplished mechanically as it is, with rhyme, with metrics. Indeed, the dexterity within these lines may at times intimidate, or even frighten, amplifying the frequent satirical judiciousness of the tone – but as the author writes in the poem, 'Several Thoughts About Guns:' …though some ursine anger may instill / a little fear, that's good."—Jennifer Reeser
Chris Bullard's work has appeared in Pleiades, Nimrod, Atlanta Review and other literary journals. His previous collections include You Must Not Know Too Much (Plan B Press).
ISBN 978-1625490544, 84 pages