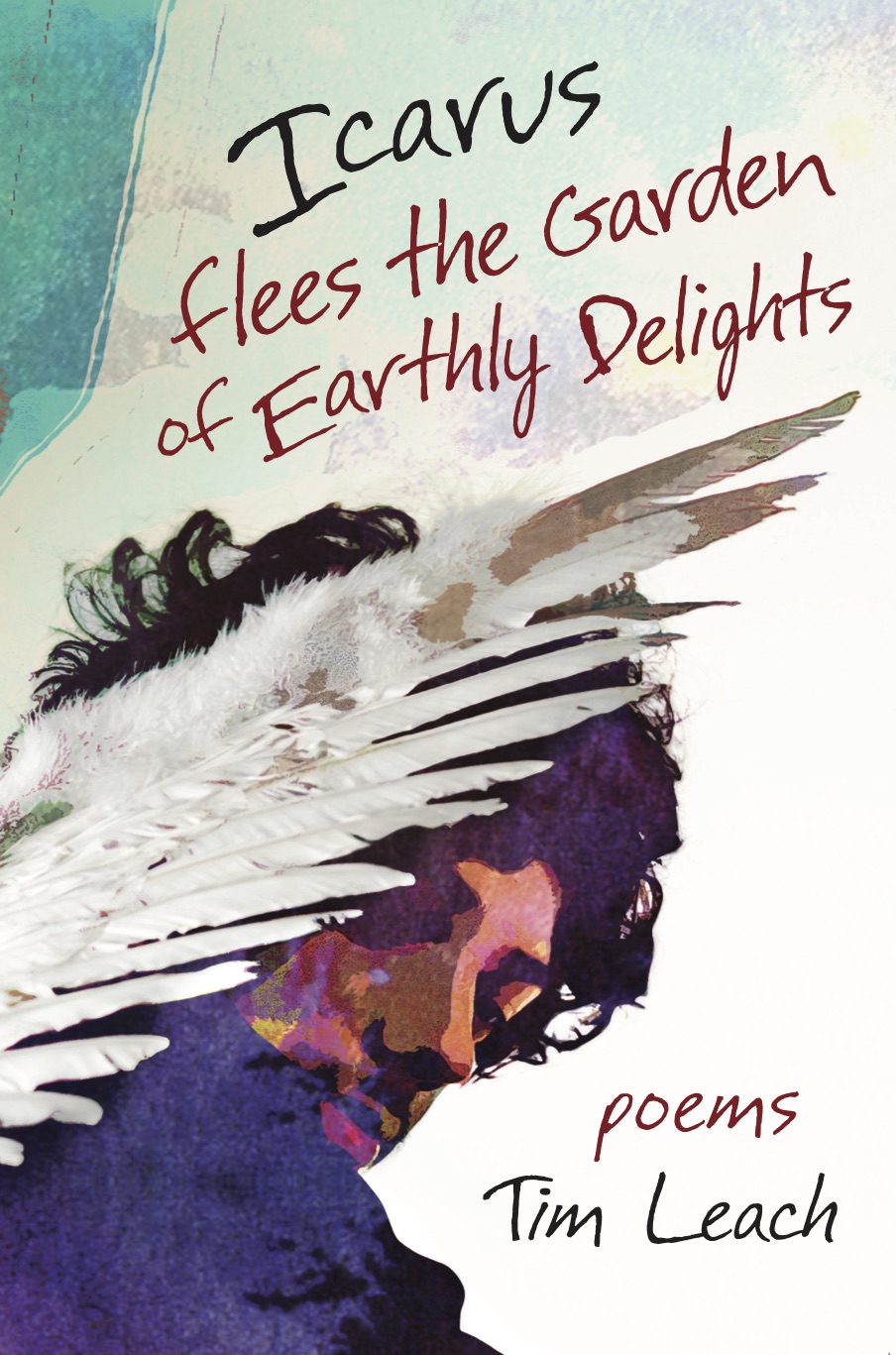 Icarus Flees the Garden of Earthly Delights, Poems by Tim Leach
A flight, or fall, from Paradise: this is the guiding theme of the witty poems of Tim Leach's Icarus Flees the Garden of Earthly Delights.
"Poetry with heart and guts is a trademark of Tim Leach's work. Whether the poem is humorous, narrative, or an imagery-luscious treat, Tim surprises and regales us with his consummate skill as a wordsmith. You will learn from these poems—small town pleasures, re-visions of master paintings, lessons from the manic war in Vietnam—and you will again feel the sorrow and delights of the human condition." —Susan Swartwout
"Poet Tim Leach has the power to draw together the flying pieces of our fragmented world." —Catherine Rankovic
"There's great pleasure to be found in Tim Leach's new rollicking collection of accomplished poems. From mythology to history, from Duchamp to Nietzsche, Tim carts us off to a slightly surreal territory where each poem is like a sonic bomb dropping and meaning is never sacrificed. This is a collection of poems by a writer at the height of his powers." —Matthew Freeman
Tim Leach has been covertly obsessed with writing poetry since age 12, and 30-plus years as a journalist, (Globe-Democrat, National Enquirer, Australia's People Magazine with contributions to St. Louis Magazine, Ladue News, many trade and professional publications, and Post-Dispatch op-ed pieces, plus hard time in public relations and advertising as a writer for all media--all has honed his writing skills in his current poetry. Primarily, since four years when he went public with his obsession with coaxing and tutelage of Pam Garvey and Catherine Rankovic, his work has appeared in: Southern Poetry Review, Natural Bridge, Sou'wester, Literati Internationale, Kaleidoscope, Epicenter and Pegasus, and New Millennium after honorable mention in its annual poetry competition. Tim acted on the Golden Rod Showboat 8 years, is a Vietnam veteran, lived as a journalist in Australia two years with his long-suffering, saintly wife, JoAnne, and dabbles in creating what he calls trash art and photography. He describes his work as "dense, intense narrative reflection on an idiosyncratic life of misspent youth and lethargic middle age, with many regrets but little self pity."
Cover design by Peggy Nehmen, n-kcreative.com
ISBN: 978-1625491374, 128 pages, $20