Prisoner Cowboy, Poems by Edward Manzi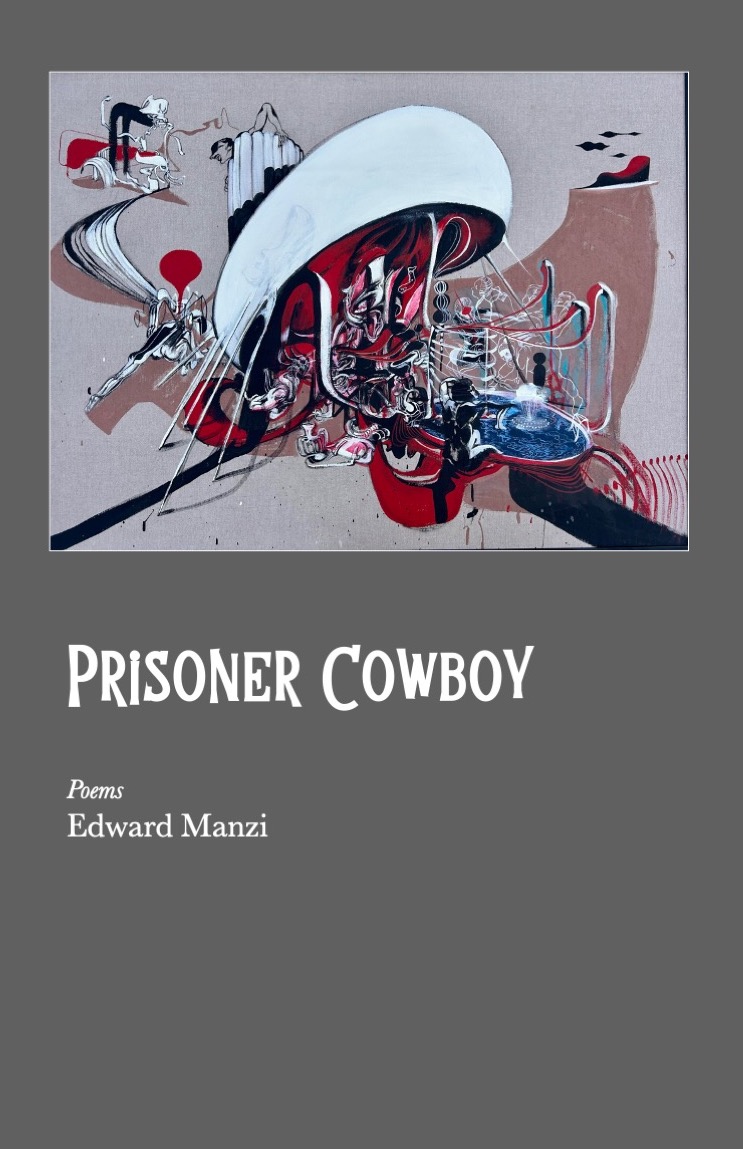 Edward Manzi's Prisoner Cowboy struts and frets upon the stage, and each poem is a showdown with the reader's perception.

"Edward Manzi would be quite comfortable eating a dish of bearded mollusks with olive oil and Ritz crackers alongside Daniil Kharms, Max Jacob, and Buster Keaton in a fallout shelter fully stocked with BB guns and bananas. The poems that make up Manzi's debut are rambunctious as a sunflowers ah!-ing in a brutalist landscape where 'last year's hornets' nest is as big as a football in the eaves.' Here are tactile, archetypal magnifiers. An occasionally fatalistic tough and tender voice with a 'go-by-gut' instinct. In a dystopian future, if all I could carry is a couple of books, Prisoner Cowboy would be in my holster; a heart, humor, and honesty to remind me who I am and who we were. But, thankfully, this is not that future, so for many years to come I hope to step out the door into the lit streets with this collection at my side as the weathervanes spin." —Noah Burton, author of Clothesline Saga and Look Out Animal (Vegetarian Alcoholic Press)
"This is a book of unsettling delights, a party 'on a porcupine's back.' Manzi's speaker tromps through these pages demanding pleasure and recognition, while celebrating strangeness, and confessing—in what are often surprising turns in the poems—his fears and anxieties. These poems render the problems of ordinary life with accuracy, but something is also wrong, the reflection presented by a funhouse mirror, a distorted recognition: fun, familiar, frightening."—MRB Chelko, author of Manhattations
"There is treacherous magic flowing through this astounding book. Has the mundane world ever seemed so simultaneously enchanted, cruel, charming, freaky, desperate, amusing, blessed and absurd? The prisoner cowboy is a sort of Bartleby the Scrivener who one day walks out of his office door straight into the post-pandemic street, never looking back. Edward Manzi is one of the true inheritors of those visionary mutineers, Russell Edson and James Tate. He too makes us laugh and cry as he reveals the truth about what we like to call reality."—David Rivard, author of Some of You Will Know
Edward Manzi grew up in New Hampshire. He earned an MFA from the University of New Hampshire. For the last twelve years, he has lived in Tahoe City, California.
ISBN 978-1625494320, 88 pages