Graffiti Calculus, Poems by Mary-Sherman Willis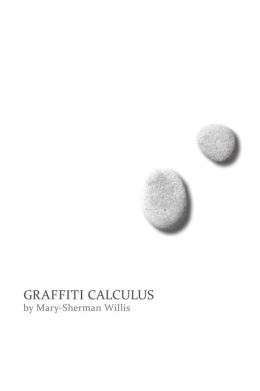 The edgy poems of Mary-Sherman Willis' Graffiti Calculus engage the daily calculus of the urban scene with deep intelligence and grace.
Sample Poems by Mary-Sherman Willis
"Compulsively readable, beautifully achieved, Graffiti Calculus follows the marks on time's walls--notches on a doorway as a boy outgrows a mother's reach, the tags of a son on mapless streetscapes, kilroy whose face marks the trail of empire's 'expendable' sons, a Paleolithic Boy who faces his beast with a line drawn on the cave wall--Mary-Sherman Willis has given us a brilliant, heretofore unwritten saga of mythic scope--the mother's journey--even to the underworld--in search of her son."--Eleanor Wilner
"No matter what we name our children, they will seek their own identities. They will create for themselves an identity that goes with their name, even if it means changing that name, even if it means changing themselves physically and spiritually. All of us have taken part in this rite of passage. If we are parents, however, we are still baffled by the willfulness of our children as they alter, figuratively and sometimes even literally, who they are. Mary-Sherman Willis has written a marvelous poem that charts this necessary process from the dawn of human creativity to the volatile and uncertain present in which a name spray-painted on a wall marks the latest sign of an ongoing evolution. We may never know the end of the evolution of human identity, but her poem catches the ongoing urgency of the need to be recognized for oneself alone."--Mark Jarman
An old saying advises, 'If you dine with the devil, bring a long spoon.' In Mary-Sherman Willis's Graffiti Calculus, the long spoon is the mind of a mother who tries to take up the burning material of a son, lost to her, whose presence she can only track through the city by his graffiti tag. This tag, and her tracking, becomes a metaphor that she worries through countless Donne-like permutations, language bristling with intelligence and hurt, and with the effort of the imagination to struggle toward ever wider and wilder possibilities. Willis's poems are proof that poetry is a long spoon with which one may draw close to the danger of annihilation, yet come back to tell the story. And this exceptional book is that story."--Patrick Donnelly
"Willis's couplets chase a tagger son past Paleoboy, Banksy, and Kilroy, plotting the calculus of a restless tribe who make their mark however they can. Few poets have celebrated teenagers with such wise precision: 'We pinged against each other unpredictably/glittering flecks held in suspension.' Tag this: a remarkable journey."—Terese Svoboda

Mary-Sherman Willis is the author of Caveboy, a chapbook. She is the recipient of fellowships and residencies at the Sewanee Writer's Conference, the MacDowell Colony, and the Virginia Center for the Creative Arts. Her poems and reviews have appeared in the New Republic, the Hudson Review, the Iowa Review, Shenandoah, the Southern Poetry Review, Poet Lore, online in the Cortland Review and Archipelago.org, and other journals. Her poems have been featured in Ted Kooser's American Life in Poetry and in several anthologies. She is a graduate of the Warren Wilson Program for Writers, lives in Virginia, and teaches at George Washington University.
ISBN 978-1625490568, 92 pages