Salient Points and Sharp Angles, Poems by John Zedolik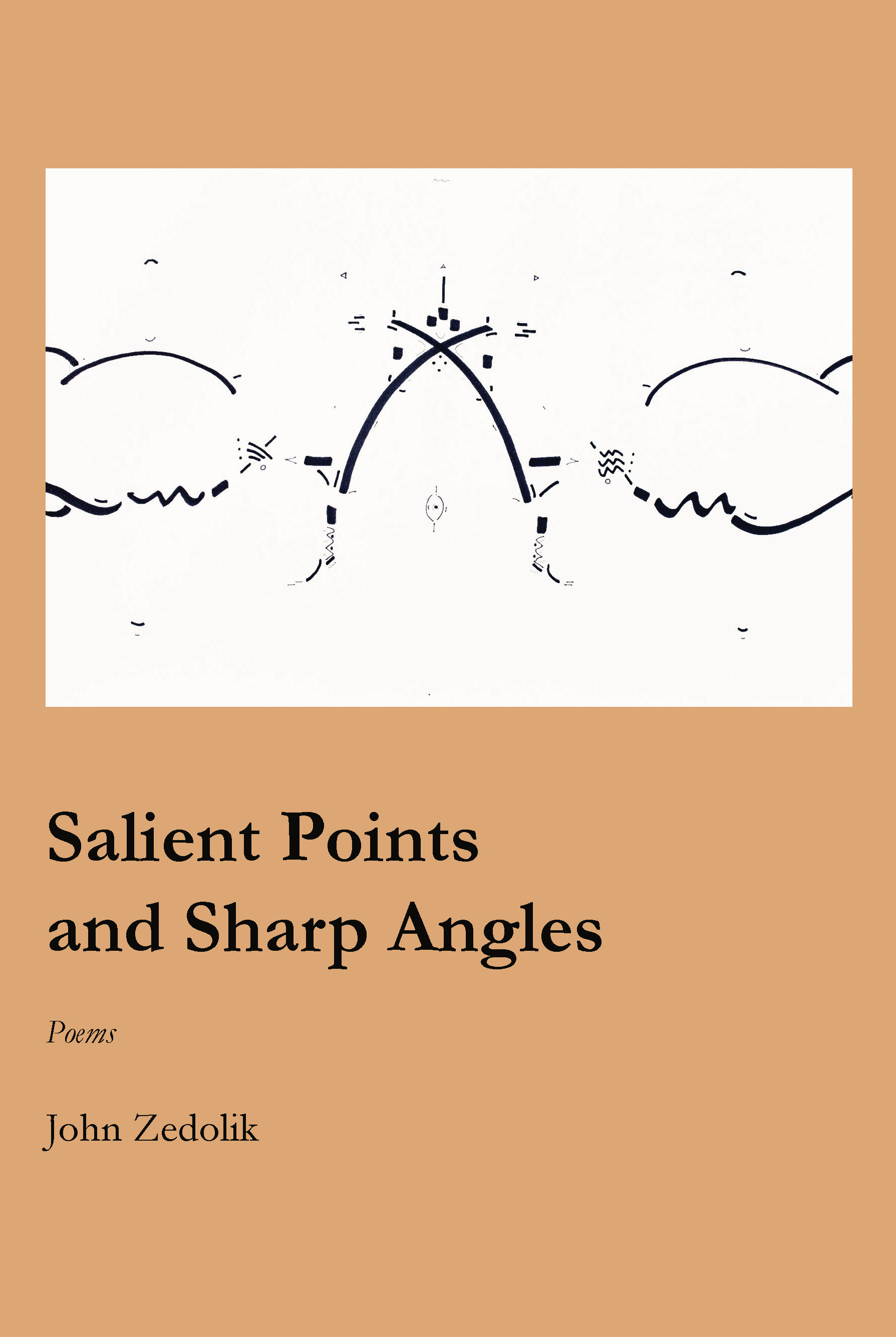 This collection stems from observations and memories that have triggered poetic responses. Usually, external phenomena or experience generate conceptions that can best be expressed in poetry. Alternately, a memory, often remote, will drift up to one's consciousness of its own accord or as a result of some exterior stimulus. The subsequent poem communicates the meaning one has discovered in the memory and/or observation/experience.
"John displays realistic and graphic images in his poetry that we can all relate to while reminiscing. After reading each of John's poems, I had to take a minute and reflect upon some of my past experiences. It is comforting how he can write and inspire calmness, fantasy and realism."- Perry Terrell, editor/owner, Conceit Magazine/Perry Terrell Publishing
"Poetry which encourages me to move is the poetry I like best. Mr. Zedolik inspires movement with eloquent lines such as 'I sailed the pages,' and 'To the place beyond the birds,' and 'I have not seen the stars in days.' Art is a searching for growth; it is a constant seeking for betterment. May the words of Mr. Zedolik inspire all readers just as they have inspired me."-Melanie M. Eyth
"'Astute and aware observations of the real world, both past and present, tinged with a touch of irony and mischievousness. Above all Zedolik's work is pleasingly accessible, subtle, and with revealing insights into time and place."-David Pike, editor, Pulsar Poetry Magazine / Webzine
"Lyrical, evocative, compelling…poet John Zedolik offers a collection that reminds us of the cardinal virtue of verse: that the line, ah yes, the line is everything. What's especially enjoyable about Zedolik's poetry is that it is produced through various modes of artistic inquiry…The poet is capable of being the still observer, as in the sublime 'Dark Riser'; in other poems, such as 'Distance Education', he becomes the roiling agent of ironic juxtaposition. Some poets are content to dabble in the smallish corners of the world's ideas and images-Zedolik is not afraid to seek out 'the place beyond the birds.'"--Charles Carroll
"John Zedolik's literary voice rings strong with the familiarity that connects readers to shared experiences such as in Hanging where a simple drive reminds us of that cool ride with our father, windows rolled down and the relaxed pace of cruising on a warm day or the annoyance we often feel for our neighbors as in 'Contra Natvram' when the mowing of the lawn during the wind down of a long day disturbs the peacefulness of a quiet evening."-Patricia Ann Mayorga, Editor-in-Chief, Poets' Espresso Review.
"A magnetic pull to John Zedolik's poems. They draw you in to their logic, dense as rock strata, involved as maps."-Sam Smith: The Journal
ISBN: 978-1625493132, 110 pages